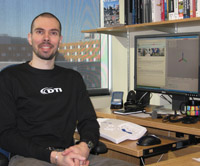 Contact information
Professor Eric Paquette
Software & IT Engineering Department
École de technologie supérieure
1100, Notre-Dame West
Montreal (Quebec)
Canada H3C 1K3
tel : (514) 396-8587
fax : (514) 396-8405
email :


room A-4460 (how to get there easily)
Some words about me
I'm a professor at the Software & IT engineering department of École de Technologie Supérieure (ETS). Most of my teaching is in the software engineering and IT engineering programs and my research is done in the Computer Graphics discipline.
Research
My research interest are in the areas of computer graphics, animation, fluid simulation, natural phenomena simulation, procedural modeling, L-Systems, realistic image synthesis.
Computer Graphics ressources
Some Computer Graphics information and links I gathered over the years:
---