We have developed an experimental system for browsing volumetric data. The novel aspects of this research include (i) using rigid and non-rigid deformations for browsing volumetric data, allowing the user to "peer inside" without losing the surrounding contextual data, and (ii) sensitivity to the semantic layers (or subsets) within the data, and designing interaction techniques around these.
The screen shots below are organized by "Tool", showing what each Tool is capable of with the same data set of a human head.
Radial Peeler

The radial peeler pokes a hole in the volume and peels it open, somewhat like how the petals of a flower open up. Two blue circles delimit the cylinder of the volume to deform. Voxels are pulled up, through, and out of the upper circle.
---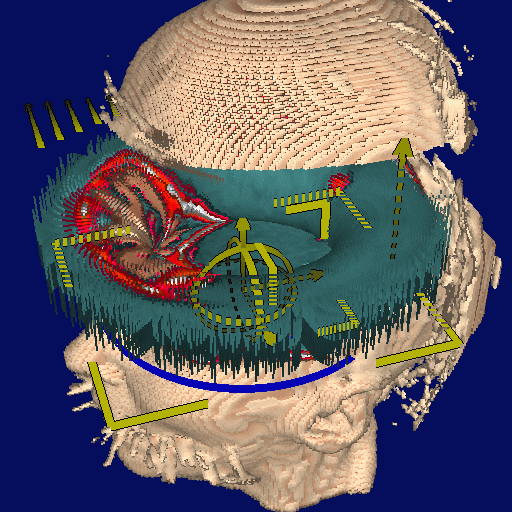 ---
Other screen shots

A 3D slice of a 4D quaternion Julia set, shown with transparency (alpha-blended splats) and with the peeler opening up the data set.

Click for a larger version.





Copyright ( C ) March 3, 2003, Michael McGuffin
Updated April 4, 2003, and May 1, 2003, and July 29, 2003, and October 24, 2003, and January 29, 2004.